After the Portrait Session
Shortly after your portrait session (sometimes the next day) Rob will stop to go over the previews while you are still at the beach. This is a great time since all of the decisions makers are together.   As great as technology is this is still the best way to review your images.  One of the reasons is that we can go over any editing that needs to be done.  For instance, if you were part of a big group of twenty people and you love a photograph but two of the people in the portrait don't look their best Rob can do a "face swap" by taking a face(s) from one portrait and inserting it over another.  I know this sounds creepy but I promise you you will never notice!  Most of the time this doesn't need to be done but it's helpful when there's a "blinker" in the family.
All of the portraits purchased from Rob Wilson Photography are hand printed and retouched. Some of the things that are often retouched are taking out the dark circle under the eyes, whiter teeth, removal of stray hairs can all be accomplished and Rob can even make you look a little thinner!  It's much easier for my client and myself to be on the same page when we meet in person.
I'll also show you a variety of wall portrait sizes from 11×14 to 30×40 so you can have an idea what these sizes look like.  It's important to me that my clients end up with the correct size wall portraits.  I will ask you a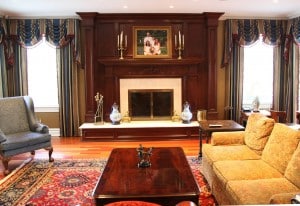 variety of questions to make sure you do end up with the right size. How high are your ceilings?  How wide is the wall where you are planning on hanging the portrait? Some people like to hang their portrait over their fireplace and others over their bed. A lot of my clients like the idea of a wall portrait grouping instead of one very large wall portrait. A medium size wall portrait (16×20) of the family, a 11×14 (mini) of the kids together and separate. Often you have a choice of two different sizes for each space that you are planning on hanging your portrait.  One size isn't better then another it just has to look great in the space that it's going.