Manasquan Photographer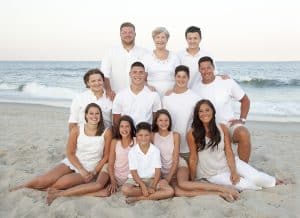 Rob Wilson Photography is a Manasquan photographer that specializes in family beach portraits. Whether your portrait session is at the beach, an arboretum, a park, or even at your home we are the Manasquan photographer for you.  Many photographers do a good job photographing seniors in High School or the cooperative eight year old but few photographers can constantly photograph families and extended families like we can.  If you are looking for a beach portrait photographer in Manasquan or the surrounding areas then consider Rob Wilson Photography.
How to find the seasoned Manasquan Photographer
There aren't many family portraits on their website, but instead there are one or two children in each portrait. If they don't show a lot of family groupings it's because of one or two reasons.  They don't do many family portraits or the ones they do aren't very good.­
The examples of their multiple generation portraits are posed poorly which results in a choppy feel. A well posed portrait, regardless of how many people are in the portrait should flow effortlessly.
The subjects are squinting because the portrait wasn't taken at the correct time. Beach portraits on the east coast should only be taken at sunrise or one hour and fifteen minutes before sunset.  The only time this rule doesn't apply is if it's cloudy out.
The photographer only shows the previews online and not in person. The communication between the photographer and client is very important to achieve the best possible end results for your family's portrait.   Online galleries can be a disaster especially when there are more than three people in the portrait.  Low resolution files are uploaded to these galleries 99 percent of the time resulting in low quality viewing which makes it hard to see the expressions.  Often these clients get so frustrated that they never end up ordering.
If a photographer calls themselves a natural light photographer than that means that they don't understand lighting. Photography means painting with light. If you don't understand light than you are not a photographer. It's impossible to consistently end up with great results if you are only using available light.  Photographers that call themselves available light photographers typically never learned their craft and are "newbies".
If a Manasquan Photographer tells you that they are just going to "wing it" so the portraits look "real" then run for the hills. Even the most beautiful candid type portraits are orchestrated to give the feel of a photojournalistic look.
They don't give you advice on clothing or they tell you to wear whatever you want. Without the right color combination where everyone is complimenting each other (that doesn't mean you have to be wearing the same exact thing) your portrait will look choppy no matter how well the photographer does their job at the session.  Collaboration between the photographer and the client about clothing is essential for the overall success of the finish portrait.
Make sure the photographer has a lot of beach portrait examples on their web site. Photographing families on the beach is like no other type of portrait photography. The natural elements are never the same from day to day.  Even on a very windy day a photographer will be able to pose a group of twenty in a way that the wind won't affect the overall portrait as much as if an inexperience beach portrait photographer took it.
When talking to a family beach portrait photographer on the phone and they are not enthusiastic than they are not the right photographer for you. If they say things like this is going to be difficult because of the ages of the children than they aren't the right photographer.  Photographing families every evening in the summer and many at sunrise I am proud to say my portrait sessions are always a success.
If you don't like the Manasquan photographer on the phone when talking to them then don't settle because their prices are low.  Never book a portrait photographer unless you talk to them on the phone.  The wrong photographer will only waste your time and won't create any lasting memories.