LBI Photographer
LBI Photographer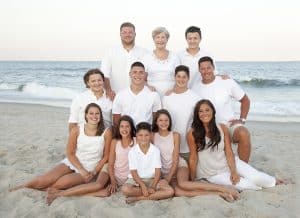 Rob Wilson is the most requested LBI Photographer  on the entire island.  Whether it's your only child or your extended family of thirty Rob Wilson Photography will capture you family's personality in a way that few photographers can.  Rob Wilson and his associate photographers all have over fifteen years of experience.  Whether it's a crying kid or any other conflict we capture beautiful portraits.  When hiring your LBI Photographer make sure you look at their entire portfolio. For instance, if you are going to have a family portrait taken of a group of fifteen make sure you see examples of portraits with big groups. If you don't see many then that usually means that either the photographer either never taken any or they aren't very good at them.
LBI Portrait Photographer and Extended Families
There is a skill in photographing extended families.  This only can be mastered by doing them for a lot of years. Where a photographer gets to the point where he can do a great job every time and not just some of the times. Where the posing flows nicely and the lighting is just right. You should never see any harsh lighting or choppy posing when doing your due-diligence looking for a LBI Photographer.  If you are looking for something special then we are certainty the photographers for you. Please browse around to take look at our galleries. You will see a lot of examples of all of our different styles of photography.  We look forward to hearing from you.
 We can answer any questions that you have. From clothing attire to and other tips on how to prepare for your LBI Portrait Session. For more information call us at (800) 757-3491 or email rob@rwilsonphotography.com. You can also fill out our contact form by clicking HERE.