Family Beach Photography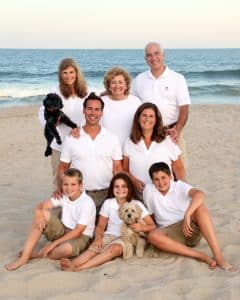 The calls are coming in for our Long Beach Island Beach Photography and beyond. Now that the warm weather is here people are getting more anxious to book their family portrait session on the beaches of New Jersey. Most of our beach portrait sessions are of large groups. For example, grandparents, kids, and grand-kids is what our typical family portrait session on LBI and other beaches look like. After photographing the large group we capture all the other combinations. Including each individual family, grandparents and the grandchildren, just the grandchildren. Often families choose to have each individual grandchild photographed along with each couple.
Dogs are family too!
Let's not forget about your dog. A lot of our clients like to incorporate their dog into their family portrait. Although, most of the summer you aren't officially allowed to have your dog on the beaches of NJ many of our family take the chance that they won't get caught. If it's important to you then why not take the chance, so far we are batting 100 percent without anyone getting a ticket for having their dogs on the beach.  So we say it's worth the chance and go for it!
Below is a short video on what too look for when hiring a beach portrait photographer. Whether it's Long Beach Island, Spring Lake, Sea Girt, Lavallette, Seaside Heights, Point Pleasant or any other beach in New Jersey we are the photographers for you! Remember, I am much better behind the camera than I am in front of the camera.
For more information call (800) 757-3491 or you can email us by clicking here.  We look forward to hearing for you. See you at the beach!