Manasquan Portrait Photographer at the Beach
Are you looking for a Manasquan Portrait Photographer at the Beach?
Why hire Rob Wilson Photography for your New Jersey's  family's beach portrait?
Reason One – Extended Family Groupings 

There aren't many New Jersey Beach Portrait Photographers that can consistently compost large groups like Rob Wilson and his associates.  Below is a list of things that you should look for before hiring a beach portrait photographer to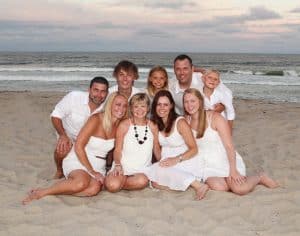 photograph your extended family.
Make sure everyone one is posed comfortably and they look like they are having fun.
Make sure they aren't squinting in the sun. If so that means the portrait was taken at the wrong time of day.
Make sure that there is enough variety with a good amount of both posed portraits and some with more of a photo-journalistic approach.
If the grandparents are on the older side make sure they don't look aren't sitting on the bottom looking like they're struggling.
Although this seems all very basic you will be surprised how many New Jersey beach portrait photographers just can't get their large group posing down.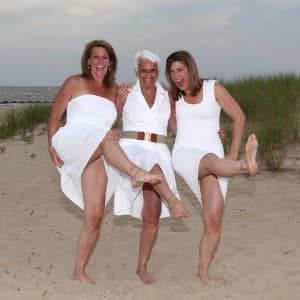 Reason Two: It's okay to have fun….so let loose!
Manasquan Portrait Photographer at the Beach
Photographing families for over twenty years I've learned that as much as people don't think they want a posed portrait but when they see the ones taken often it ends up being their main portrait.  A lot of photographers do not have many examples of authentic fun beach portraits. However, letting loose often makes the portrait session more memorable and makes for fun table top sized portrait for your desk. A lot of  the more candid type of portraits put together in a collage format is also a great way to utilize all the fun portraits  The Jersey Shore is a fun place, so make sure it shows in your Jersey Shore beach portrait session!
Reason Three: Professionalism
Just because you have a business doesn't mean you are a professional. You will notice this right away when you contact  most  beach portrait photographer as that they will rarely answer both their phone and email.  These days, unlike years past many portrait photographers aren't full time small business owners. They are either a stay at home parent or they do photography on the side. This might be fine for many people, some people are looking for some pics to put on Instagram and that's great.  My clients are looking for a family heirloom that can be passed down from generation to generation.
To schedule appointment you can either call (800) 757-3491 or email us at rob@rwilsonphotography.com.